What is the Smart Hub?
The Spectra Smart Hub is the key to the full Spectra Evolution Bluetooth experience. It serves as the primary connection point between the Spectra App on your phone and your Spectra Evolution glove lights. The Smart Hub has 2 main functions:
LIVE PREVIEW: When programming the infinite amount of modes, colors, and flashing patterns that you can create on the EmazingLights Spectra App, the Smart Hub will show exactly how your Spectra Evolution lights are going to look. Simply leave the Smart Hub ON while you are using the Spectra App. See your creations come to life in real-time with the newly added accelerometer within the Spectra Evolution Smart Hub device.


Tip: If your Smart Hub turns off, you don't have to re-sync again. Just look for the refresh icon ⟳ in the top right of any editing screen and press it. The Smart Hub will take a few seconds to begin Live Previewing again.

BLUETOOTH SYNC: You can sync up to 1 complete glove set from your phone to your Smart Hub. Then, you can flash that glove set directly onto your Spectra Evolution glove lights.


Tip: Use the "My Glove Sets" section on the app to select all of your settings and sync a glove set to your Smart Hub.
2020 Batteries
The Smart Hub is powered by 2x CR2020 batteries. To change them, eject the battery tray from the rear edge of the Smart Hub. Empty the tray and replace the batteries with both new batteries facing up towards the top of the Smart Hub.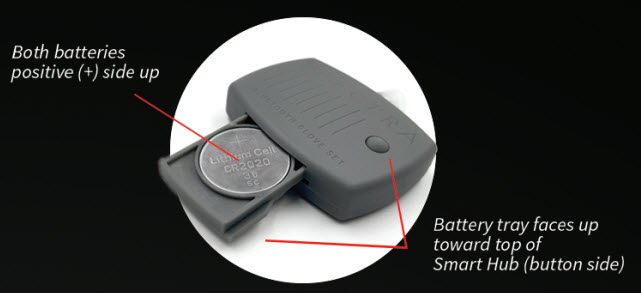 ---
---